Interested in social media for your business?

Hi there,
I'm Shay and I'm here to help you obtain the best social media marketing results.
---
Nowadays, any business needs to be on social media and in order to create a successful social media following, a good social media marketing requires a great strategy and awesome posts that generate interaction. But with all the technical terms, the numbers and the huge variety of social media channels and platforms, one could feel quite lost.
That's where I come in!
Afraid of social media? Don't know how to approach it? Not only will I guide you through it, but I'll help you come up with great promotion ideas and winning strategies!
Communicating with potential clients is much more than advertising yourself. I'll help you make it easy to find a two-way conversation with your followers.
I will teach you how to use social media to your advantage as a way to get to know your potential market and optimize your marketing strategies for best results.
---
Are you still looking at the printed IKEA catalog before driving down to the store to get your new bedside table? I've got news for you: shopping has evolved. Again.
The post The new age of shopping appeared first on blog.stibelman.com.
A good CX is what makes a customer happy, and an outstanding CX will make him come back. An out-of-this-world CX will get him to bring his friends and family to your doorstep.
The post CX and you appeared first on blog.stibelman.com.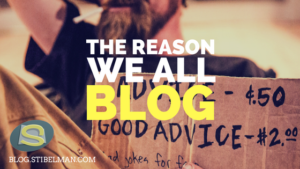 Everybody blogs these days, but why do they do it? What could be so useful that people would actually hold everything and sit down and write consistently?
The post The reason we all blog appeared first on blog.stibelman.com.
---
Clients who've already got their social media groove on:
---